Welcome
Welcome to Crimson Lotus Healing Arts, Austin's keystone for medical and cosmetic acupuncture, Advanced Allergy Therapeutics, and Chinese Medicine. If you are looking for healthy alternatives to invasive cosmetic treatments, preventative and holistic approaches to internal medicine, or to clear allergic sensitivities, you've come to the right place.  We have the perfect balancing strategies to increase immunity, lower inflammation, fight pain, increase the efficiency of internal systems, and identify underlying patterns to treat both acute and chronic health conditions.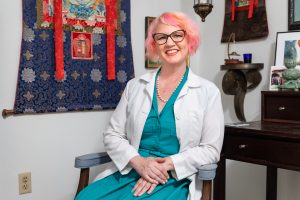 Kymberlie Landgraf Lac. has been a practitioner in Austin since 2006, with offices in South Austin and Westlake. A graduate of the Academy of Oriental Medicine, she has studied under many revered scholars  of both Chinese Medicine and cosmetic acupuncture. She treats a wide variety of health conditions and has a general practice with a specialization in cosmetic protocols. Kymberlie is a certified practitioner of Advanced Allergy Therapeutics as well, making for a well- rounded family practice.
Working at AOMA in the clinical supervision of interns for many years exponentially increased her experience with a myriad of health conditions. Her years supervising interns at Peoples Community Clinic, Seton McCarthy, and AOMA gives her a strong background in internal medicine. During this time she also maintained her private practice where she perfected her skills in cosmetic acupuncture. Kymberlie's passion is empowering her patients to play an active role in their own health and impart to them the many options they may not have been aware of in the realm of alternative medicine. Her mission is to help her clients live their best lives and discover their untapped vitality so they can look and feel their very best!
The World Health Organization and National Institute of Health recognize acupuncture and herbs as tremendously effective in the treatment of the following conditions, including but not limited to:
Addiction - Infertility - Smoking Cessation - PMS Allergies - Menstrual Irregularity - High Blood Pressure - Anxiety - Ulcers - Stress - Diabetes - Sciatica - Dizziness - Sinus Congestion - Eczema - Colitis - Acne - Colds and Flu - Herpes - Sore Throat - Arthritis - Asthma - Back Pain - Hemorrhoids - Stiff Neck - Earaches - Headache - Hot Flashes - Impotence - Joint Pain
Contact us today to find out how Chinese Medicine can help you!